The botanical collection includes approximately 127,000 specimens. We have mostly herbarium sheets of vascular plants, as well as many moss specimens. There are fewer fruits, seeds and cones. The oldest specimens date back to the 1830s. The collection is currently growing as a result of fieldwork done by the collection's curators.
Vascular plants collection
The collection of flowering plants, conifers and ferns includes about 94,000 specimens.
The largest sub-collections of vascular plants are from the Estonian Provincial Museum era collection of Rudolf Lehbert, a hobby botanist and pharmacist in the Tallinn Town Hall Pharmacy, and the Baltic Herbarium made up of small private collections of various Baltic Germans. Thanks to the plant collections from the Provincial Museum, the herbarium of the Estonian Museum of Natural History has the most extensive repository of vascular plants collected from Estonia in the 19th century.
Other honourable mentions of vascular plant collections are the Estonian Herbarium, which has plants from all over Estonia and is constantly expanding with new specimens picked by museum staff, as well as the herbarium of botanist Heinrich Aasamaa, which was donated to us at the end of the last century and has a lot diverse material.
Of note are the herbarium sheets for plants that are now regionally extinct or in critical condition here, as well as those that have been used for describing new species. The number of vascular plants in the latter category is about one hundred.
In order for visitors to see the plants, the curators have compiled a sub-collection of them – its herbarium sheets can be used both for teaching and for exhibitions.
Jana-Maria Habicht
curator of vascular plant collection
@email
+372 660 3327
Moss collection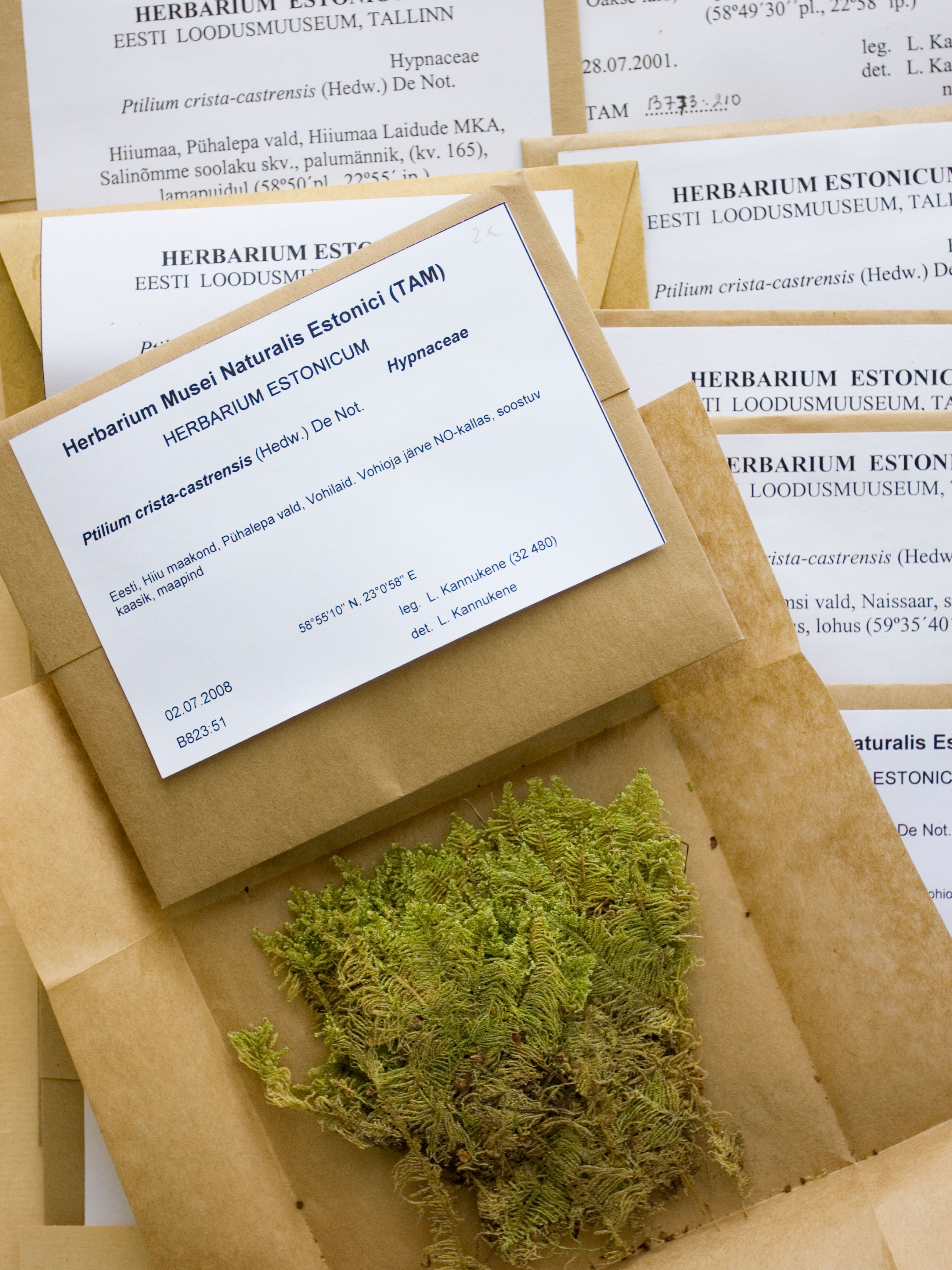 The oldest specimens of the largest moss collection in Estonia were collected in the middle of the 19th century. The mosses from that time arrived at the museum as a legacy of the Estonian Provincial Museum. Almost three-quarters of the 33,000 specimens have been collected in Estonia. In addition to the most common kinds of moss, there are also rare protected species and several first finds in our moss flora.
Heinar Streimann, an Australian moss researcher with Estonian roots, is behind the richness of the general herbarium displaying foreign mosses. The moss specimens from him are from very different regions of the southern hemisphere. Thanks to Streimann, the Estonian Museum of Natural History also has specimens of the world's largest terrestrial moss, Dawsonia superba, which can grow up to 70 cm high.
The most enthusiastic sponsor to the herbarium in recent decades has been Leiti Kannukene, a renowned moss researcher who has worked as a curator for the moss collection of the Estonian Museum of Natural History.
 
Loore Ehrlich
moss collection curator
@email
+372 660 3327